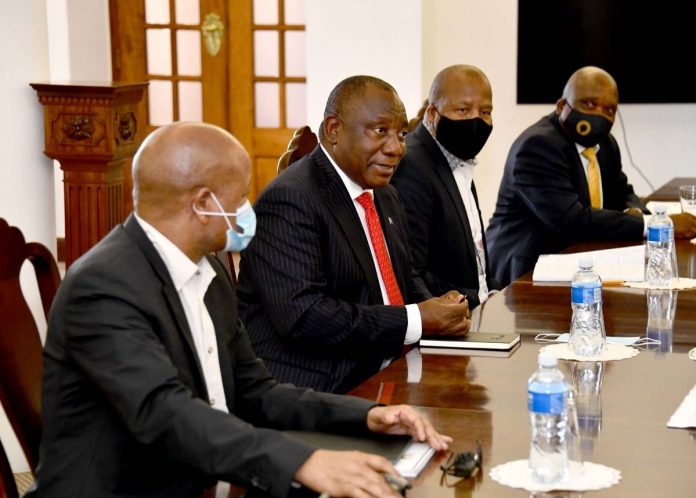 CHARLES MOLELE
THE National Education, Health and Allied Workers Union (Nehawu) has insisted on pushing ahead with its litigation case against government's failure to implement the salary adjustments agreement despite their meeting with President Cyril Ramaphosa on Friday.
Nehawu, COSATU's largest public sector union with a membership of 235,000, has accused Ramaphosa's administration of backtracking on the multi-year wage agreement for public service workers.
Nehawu was the first COSATU affiliate union in 2015 to endorse Ramaphosa as the next ANC president ahead of the party's elective congress.
This week Ramaphosa was forced to meet with top leadership of Nehawu after several months of talks between unions and government failed to produce any tangible results.
Finance Minister Tito Mboweni announced during his budget speech in February that there won't be any salary increases for close to 1 million public servants despite the standing agreement with the public sector unions.
Mboweni also announced government plans to cut public sector wages by around R160 billion over the next three years to contain a rising budget deficit.
South Africa currently spends around a third of its budget on the salaries of 1.2 million civil servants.
Public sector unions, among them NEHAWU, SADTU, POPCRU, DENOSA and SAPU, lodged an application in the Labour Court to force government to honour the multi-year wage agreement after the Department of Public Service and Administration and Minister, Senzo Mchunu filed a counter-application.
The unions want the court to order that the state cannot just renege on a wage deal.
The increases the State agreed to pay as part of a 2018 multi-term wage agreement were supposed to have taken effect on 1 April this year, but the government said it did not have the money to pay.
The government, on the other hand, has blamed poor economic growth leading to sovereign credit downgrades and the effects of the Covid-19 pandemic for failing to implement the wage increases and seeking its renegotiation.
On Friday, government and Nehawu agreed to continue engagement on issues concerning collective bargaining and workplace conditions in the public sector, particularly in the context of the COVID-19 pandemic.
The meeting agreed that government and Nehawu will continue work on the issues raised in the Nehawu memorandum that are currently being discussed by task teams comprising government and Nehawu.
"Reports of these task teams will be presented to a meeting of senior leadership of government and public sector unions who will meet again soon on a mutually convenient date to develop solutions in the interest of workers, the public sector and the nation and economy at large," said the Presidency.
Nehawu, on Monday 21 September, marched to the Union Buildings in Pretoria in an effort to get their demands addressed.
Nehawu's memorandum to Ramaphosa relates to improving occupational health and safety uniformly in the context of the COVID-19 pandemic.
Nehawu is also protesting against the salaries of public servants not being increased.
Among their demands are the following:
That COVID-19 not be used as an excuse to reverse the hard fought gains of workers;
That government urgently take steps away from a "neoliberal economic policy paradigm";
Workplaces undergo risk assessments and infections control, and prevention measures are put in place, and the Occupational Health and Safety Act must be implemented in full to protect workers;
Infected workers must return to work only when they complete the mandatory 10 days of self-isolation, have undergone a medical evaluation confirming fitness to work;
Department of Health must review the process of reporting on COVID-19 fatalities in all institutions to ensure adherence with uniform standards as recommended by the WHO;
Government urgently fill all vacant posts in the public healthcare sector and ensure that we start to build building blocks for the implementation of the National Health Insurance [NHI].
(COMPILED BY INSIDE POLITICS STAFF)