Lucas Ledwaba
The stern reaction by the international community in response to the latest wave of attacks on foreign nationals could be the kick in the behind the SA government has long needed to deal decisively with the issue of migrants and migration.
Until this week's response by foreign governments which included the withdrawal from a football friendly match by long-time ally Zambia; the closure of the SA embassy in Nigeria; and retaliatory attacks on the South African business' across the continent; the ANC government showed little appetite to address the problem of violence against migrants and migration in the country and the underlying reasons behind it.
Nigeria, ranked the second biggest economy in Africa took decisive action this week when President Muhammadu Buhari dispatched a special envoy to convey Abuja's concerns to President Cyril Ramaphosa.
Buhari also instructed his minister of foreign affairs, Geoffrey Onyeama, to summon SA High Commissioner to Nigeria, Lulu Mnguni to express his displeasure over the treatment of his people.
Buhari went a step further by boycotting the World Economic Forum on Africa being held in Cape Town.
The 16th annual Abuja International Film Festival suspended SA films in retaliation. Zambia's Hot FM suspended SA music until further notice. In the streets of Nigeria and Zambia mobs attempted to replicate the attacks in SA by targeting South African businesses.
This is by far the harshest reaction against South Africa since the onset of sporadic attacks on foreign nationals, which, in May 2008, resulted in the deaths of at least 62 people.
But if anyone thinks this will muster a decisive response from the government – they are mistaken.
Until now, the reaction from African governments and the international community has largely been limited to carefully worded speeches and statements like the one issued by the United Nations High Commissioner for Refugees (UNHCR) through Clementine Nkweta-Salami, its regional
representative for Southern Africa in March 2015.

"We once again call on Government and urge law enforcement agencies to maintain their presence in these volatile areas and to protect refugees and foreign nationals," said Nkweta-Salami.
This was just less than a month after a string of violent attacks on foreign
nationals in Soweto. The UNHCR also raised concerns about other similar incidents on foreign nationals in other parts of the country at the time.
Similar statements had been issued in the years after the bloody 2008 attacks – but there's been little or no action. As a result, the SA government has, irresponsibly, left the issue to simmer, relying on its public order policing each time violence flares up.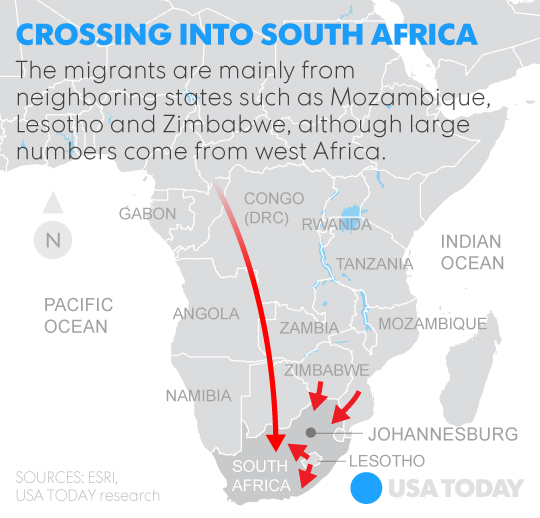 There are contrasting figures regarding the number of undocumented migrants in SA. But there's agreement that the numbers extend into the million figure or even more. These include nationals from Africa, Asia and Europe.
South Africa's porous borders, along with corrupt immigration officials and police officers, have been blamed for the seemingly never ending stream of undocumented migrants descending into the country.
A seeming lack of political will has exacerbated the problem through an absence of enforcing existing laws and formulation of new legislation to first, ensure that migrants are duly documented and those who qualify to stay in SA are assisted and adhere to the country's rules.
Secondly, the government has been rather too soft against perpetrators of violence against migrants, which seems to somewhat have embolden unruly and opportunistic elements to attack migrants at will.
It was expected that after the 2008 attacks, SA would develop programmes to address the integration of foreign nationals, tighten its management of the country's borders, and improve mechanisms to ensure that everyone living and making a living in the country is documented.
It requires no genius tendencies to understand the dangerous implications of a scenario where close to a million or more people in a country are unaccounted for by the state machinery.
SA boasts a huge number of migrants from Africa and elsewhere who are legally in the country and contributing to the country's economy.
This grouping are largely untouched by the violence which plays out in either low income or working class areas, townships and suburbs where foreign nationals have set up communities eking out a living in the lower levels of the economy alongside SA citizens.
Those who can afford and have the legal documentation have easily integrated into SA communities. If SA was serious about resolving the issue of migrants, successive SA governments since the end of apartheid could have, should have, found practical solutions to ensure integration.
Perhaps in the aftermath of the 2008 attacks, the ANC-led government should have drawn inspiration from how Rwanda handled the period following the 1994 genocide in which more than 800 000 people were butchered in a matter of weeks.
Rwanda applied a combination of restorative justice, African traditional justice systems and the Western forms of justice to deal with the causes of the genocide and to prosecute those responsible.
In addition, they instilled a deep sense of anti-violence and generated a spirit of togetherness through community oriented programmes.
With SA's violent past and its deteriorating economic fortunes that have seen unemployment rise to 28% this year; an almost dysfunctional police service ranked in a poll as the most corrupt institution in the country; a drug abuse and peddling scourge that seems to have become a normal part of the national psyche – the ingredients for an uprising have always been ripe.
This time, the killing of a taxi driver, allegedly by a foreign national, sparked what appeared set to degenerate into a national bloodbath on a scale never seen before.
By the time Ramaphosa stepped up to deliver an uninspiring address to the nation Thursday evening after a week of ducking and diving, nine people lay dead.
His pre-recorded televised address failed to offer reassure a nation desperate for decisive leadership. But it's something that should not surprise anyone.
Ramaphosa, like the majority of African leaders, are failing the poor people of the continent. Even as they rightly condemn the violence in SA, African leaders are shying away from the issues that lead to their citizens to flee their countries in the first place.
Their reluctance to tackle the real problems… corruption, poor governance, lack of ideas to grow their economies and instability in their own countries have seen their citizens flock to SA in droves, or drowning in the Mediterranean each week in search of better lives in Europe.
While SA is the most industrialised country in Africa and the third biggest economy, it was inevitable that at some stage its fortunes would flip like an overloaded donkey cart.

And when a donkey cart flips over and pins down its cargo with its sheer weight, the fallen would turn on each other and bite and scratch for fresh air and an escape from the suffocation.
It is thus that we see the poor of SA attacking the poor from elsewhere with the hope, or is it the delusion, that if the foreigner leave the country, things would get better and their fortunes would change.
But will it? It's time Africans became game changers themselves and stop relying on politicians.

Is it not time South Africans and other migrants from elsewhere on the continent worked together to ensure that criminals, drug peddlers and pimps in their communities are exposed and dealt with according to the law?
Is it not time South Africans, Nigerians, Zambians, Malawians, Zimbabweans and other African nationalities work together to ensure that employers do not create animosity and hatred by violating labour laws through side lining of local labour and turning desperate migrants into pawns in a cruel game of cheap labour?
If anyone – South Africans who rightly feel entitled to reaping the fruits of their motherland and migrants who are here not of their own doing or liking – think violence will resolve this situation, then all they are achieving is to doom future generations into an endless cycle of poverty, violence and mistrust.
Buhari may express harsh words against Ramaphosa in public, but in private, they will laugh and have tea while striking deals for the benefit of their own while out in the streets of Abuja and Johannesburg, the poor kill each other. Watch out Africa!
2,078 total views, 9 views today