Riyaz Patel
Zulu King Goodwill Zwelithini has once again dismissed recommendations of the high-level panel appointed by Parliament to review legislation on land reform that the Ingonyama Trust either be reviewed or repealed.
He is the sole trustee of the Trust which administers more than 2.8 million hectares of land in KwaZulu-Natal, set up on the eve of the 1994 elections to ensure the participation of Zwelithini and the IFP in the first democratic elections.
The presidential advisory panel on land and agrarian reform recommended on July 29 that the Ingonyama Trust Act be reviewed or possibly repealed, as the "act has perpetuated the existence of KwaZulu-Natal as a homeland within a unitary state 25 years into a new democratic order."
King Zwelithini told a large group of women during the Umkhosi Wesivivane in KwaNongoma, in the north of KwaZulu-Natal Saturday that he was still waiting for a member of the high-level panel to talk about the matter with him directly, according to a SABC report.
Chair of parliament's agriculture and land reform portfolio committee, Mandla Mandela, has backed the calls to scrap the Ingonyama Trust Board (ITB).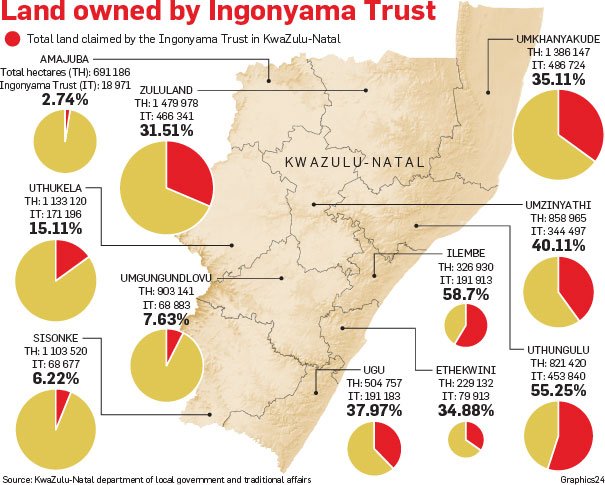 Mandela said the portfolio committee had a duty to look into the functioning of the ITB as it was funded by the department.
"Where else is that budget being spent around other kings and queens who are recognised by the government of this country? We said we need to look into the operation of the ITB, Mandela said. 
Zwelithini, however, is undeterred, insisting that the land "belonged" to the royal clan and said this would not change anytime soon.
The Zulu monarch has previously warned that anyone who touched the Ingonyama Trust was declaring war against the Zulu nation.
"I want you to know that this land belongs to the current reigning King of AmaZulu [and] previous Kings and Queens and will not be taken from us. It will not die or be taken during my reign and your time. If we allow that, history will judge us harshly," Zwelithini said, striking a defiant tone.
Contralesa president Kgosi Mathupa Mokoena had said the panel's call would imply that the king was abusing his powers and that this was not warranted.
Kgosi Mokoena added that Contralesa noted that there were people, including politicians, who wanted to do away with traditional leadership.
The IFP has rejected its findings outright, while Afrikaner lobby group Afriforum, expressed support for Zwelithini.
AfriForum's Ernst Roets said his organisation is "concerned about the targeting of the Ingonyama Trust, in terms of which the Zulu King is acting as trustee on behalf of the Zulu Community, and added that that it would continue taking a stand, against what it called 'irresponsible land reform.'"