Riyaz Patel
The Gauteng High Court has granted President Cyril Ramaphosa an interim interdict to suspend Public Protector Busisiwe Mkhwebane's remedial action stemming from her investigation into a R500 000 donation to his ANC presidential campaign.
Mkhwebane did not oppose Ramaphosa's application for interim relief, but her spokesperson, Oupa Segalwe, said recently the move "does not mean she is backing down."
In her report, Mkhwebane found that Ramaphosa had misled Parliament and violated the executive ethics code.
The Public Protector said there was "prima facie evidence of money laundering," and recommended that the NPA investigate the charges following revelations of millions of rands of donations by prominent business people to the CR17 campaign.
The Sunday Independent reported this weekend that politicians, including a minister and a deputy minister, were reportedly paid millions for their role in Ramaphosa's 2017 ANC presidential campaign.
On Saturday evening, seemingly pre-empting the Sunday newspaper's expose, the Presidency released a statement stating that the leaking of confidential banking information of funders to and recipients of the CR17 campaign is a breach of privacy.
"The selective circulation of this banking information is clearly intended to cast aspersions on the President," Presidential Spokesperson Khusela Diko said in a statement.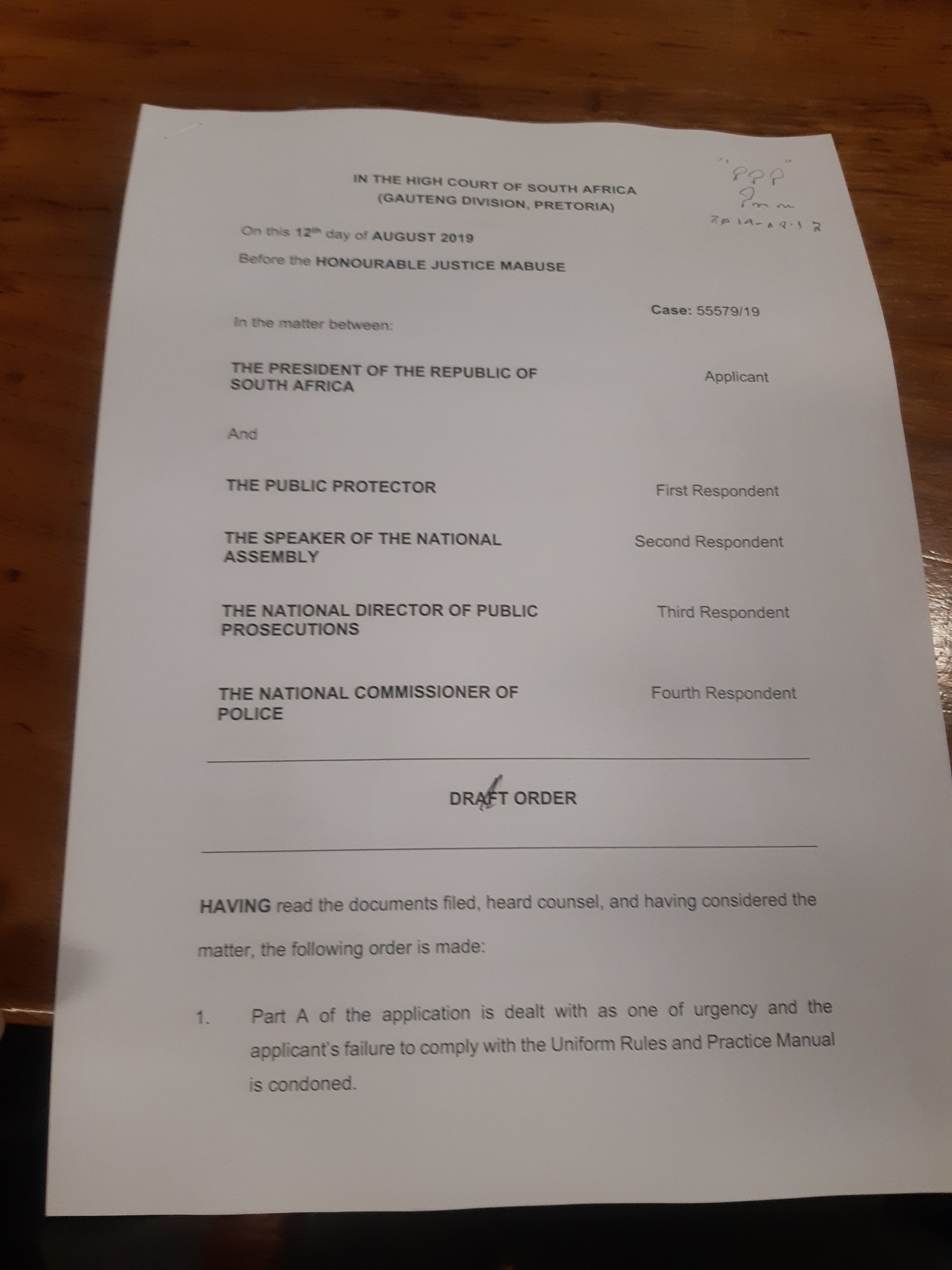 The remedial action which has been suspended relates to direction to the Speaker of the National Assembly as well as the national director of public prosecutions to take steps against President Cyril Ramaphosa.
This was just one part of Ramaphosa's application.
The other is a full judicial review of the report compiled by Mkhwebane.
She had detailed in her report how the R500 000 donation by Bosasa's Gavin Watson made its way to the CR17 trust account, noting that it went through several intermediaries before landing in Ramaphosa's campaign fund.
Mkhwebane had found that there was merit to allegations of money laundering based on the facts before her.
She further found that just over R191m was transferred into the CR17 account between December 2016 and January 2018. During the same period, Mkhwebane said, the same amount was transferred out of the account.
"In conclusion, on the above revelations relating to the exchanges of large sums of money, some of which [was] received from private companies, I wish to express my preliminary view that such a scenario, when looked at carefully, creates a situation of the risk of some sort of state capture by those donating these monies to the campaign," Mkhwebane said.
Ramaphosa then decided to take Mkhwebane's report, in which it was alleged that he had violated the executive code of ethics, on urgent judicial review.
With a potentially bruising battle underway, some political observers say the public protector's action against Ramaphosa are supported by a faction aligned to former president Jacob Zuma and ANC secretary general Ace Magashule.
This 'internal fightback,' they say, poses a danger to Ramaphosa because it's a high-stakes battle being waged by individuals whose actions are indicating that if it cannot reclaim the ANC, it is comfortable with destroying the party.