The widow of Lonmin security guard Hassan Fundi, who was brutally murdered by striking mine workers, approached me during the Marikana Commission of Inquiry in Rustenburg back in 2012.

The previous weekend, I had penned an article about Aisha Fundi, Veiled Widow's Courage, in the City Press newspaper.
The piece detailed how she attended the hearings every day without fail, hoping to find out the truth about how and probably who had killed her husband, a devout Muslim, on 12 August 2012.
At the time, the Commission had set strict restrictions on journalists not to interview families of the deceased or witnesses.
It was extremely frustrating not to be able to speak to those whose loved ones had been killed and were now seeking the truth.
I wrote the article based purely on my observations and on evidence being led before the commission.
"Lucas? Are you Lucas?" Aisha Fundi, her face covered in a black niqab, enquired as she stood by the stairs next to me.
She said she had read the article, and wasn't particularly happy.
Post mortem reports show that Hassan Fundi died of multiple injuries which include secondary degree burns involving both lower limbs, left hand and face and an open lower jaw fracture.
The Commission also heard that his tongue was hacked off for muti.
To compound the tragedy, Hassan had been on leave when he was recalled urgently back to work to help with the unprotected strike which was turning increasingly violent.
On his first day back at work, he was assigned to stop striking workers from marching onto the NUM office in Wonderkop.
Together with colleague Frans Mabelane, they were stabbed, hacked and burnt by workers on the grounds of the Wonderkop Hostel.
We had many conversations with Aisha after that discussion. She was hurting. She wanted the truth and justice.
She felt that somehow, the death of her husband and those of the nine other people allegedly killed by workers during the strike, were considered less important, particularly by the media.
She said it's as if her husband and the nine other men – Mabelane, two policemen and six other workers – who were killed apparently for not heeding the call to strike, "deserved to die and their murders did not warrant any attention."
It did appear that way on many levels. But I guess the obsession with the 34 deaths of 16 August stemmed from the fact that there had never been killing on such a scale by law enforcement since the ANC came into power in May 1994.
In addition, in the week leading up to the massacre, there was huge mistrust of journalists by the striking workers which led to minimal reporting on events.
I was hoping to interview Aisha and Mary Langa for this article ahead of the 7th anniversary of the tragedy. I couldn't… And after listening to an interview with Aisha on SAFM Thursday, the eve of the commemoration of the Marikana massacre, I was somehow relieved I did not.
Even experienced talk show host Stephen Grootes appeared to be taken aback by the clearly still grieving, but articulate Aisha Fundi.
I could sense that she's still in great pain, and still very angry too.
Her sentiments made sense. After all, Marikana is still about the 34 men killed by police. Their families have been compensated. Aisha and the nine others have not.
The commemoration ceremony on the 16 August is about them, the 34 dead, not her husband and others. They remain the unseen, the unacknowledged, the unheard and the invisible of Marikana.
In Tonga, Mpumalanga, Mary Langa is probably the most forgotten of all, Her husband Julius Langa was brutally murdered on his way to work during the bloody week before the massacre.

His body with multiple stab wounds was found on the side of a road in Segwaelane near Marikana… A victim of the spears and pangas of his own colleagues who were angry that he had not heeded the call to strike.

Langa spent more than two years at the Marikana Commission, and like Aisha, hoping to hear how her husband died and who had killed him. She did not. For the better part, she didn't have a lawyer representing her at the commission.

She didn't know she needed one. She cried every night in her comfortable hotel room. Sometimes she couldn't eat, because in Tonga, her children were starving.
She felt she was the forgotten one, the odd one out. Even the widows of the 34 who shared the hotel with her shunned her. She was an outcast whose husband had 'sold out.'
It is hard to forget her distressful sobs, the deep sobbing that pounded the walls of her cold, empty house when I interviewed her in 2015.
Her husband's former employer Lonmin was paying for some of her children's schooling at the time. But still, she didn't know who had killed him.
She had no income and no information about her husband's killers. She could not stop crying. Life was hell, a waiting game with no end.
The next of kin of Marikana's victims, regardless of whether they got compensated or not, continue to live with this nagging pain of losing loved ones aggravated by the fact that even today, seven years on and after a commission that enriched lawyers, no one has been prosecuted and jailed for any of the deaths.
The man at the centre of the events leading to the massacre Cyril Ramaphosa has since become state president, and his comrade in arms Nathi Mthethwa who was police minister then, still a cabinet minister.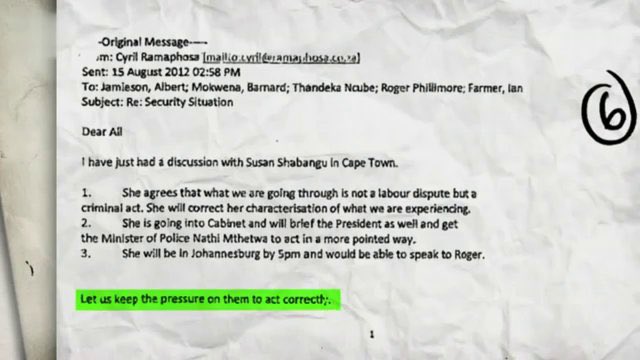 Ramaphosa has said previously that he regrets using the "concomitant action" in the email he sent during the strike.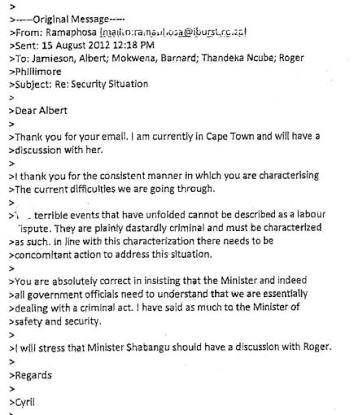 For Aisha Fundi and Mary Langa though, what remains of life is a painful drag, a hollow journey with no closure and not a glimmer of a sign of justice. Their husbands remain a footnote in history, reduced to a statistic in a bloody, shameful episode.
How sad and sickening that, seven years after their husbands was brutally murdered, Aisha and Mary's questions from seven years ago remain unanswered.
How distasteful that after all these years, there's not a single politician, police officer or miner serving jail term for destroying lives, families and futures
Instead, those who engineered the slaughter are free, dancing on the bones of Fundi, Langa and all victims of what could have been avoided had political connections not been activated to protect financial interests – and a union who used corpses as a stepping stone to assert power.
126 total views, 3 views today