Embattled power utility Eskom reported a loss of R20.7bn in the 2018/2019 financial year, with municipal debt rising to just under R20bn.
Releasing the company's financial results Tuesday, outgoing CEO Phakami Hadebe said the debt excludes Soweto with that debt increasing from R15bn in 2018 to R18bn in 2019.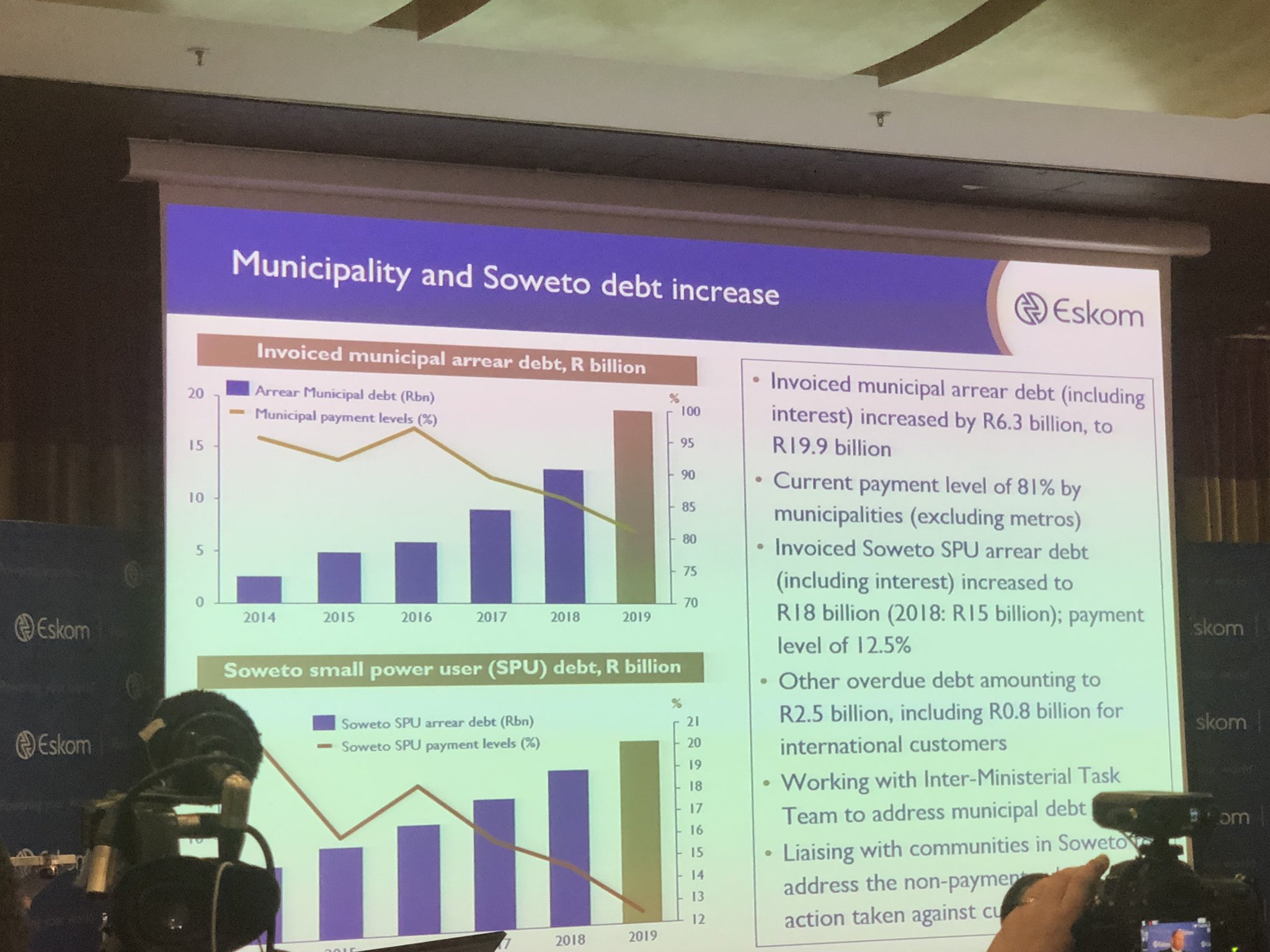 The power utility said the loss was induced by the escalating municipal debt; a lower-than-expected 5.23% tariff increase granted by the energy price regulator for the 2018/19 financial year; a 1.82% decline in sales volumes; and an above inflation wage settlement with unions.
Public Enterprises Minister Pravin Gordhan announced Monday that Eskom Chairman Jabu Mabuza would take over from Hadebe as the acting CEO of Eskom. 
Eskom, which supplies about 95% of South Africa's power and is reliant on government bailouts to remain solvent, announced its second consecutive multi-billion rand annual loss Tuesday.
The state-owned utility forecast in January that its loss would swell to about R20 billion ($1.4 billion) in the year through March, from R2.3 billion the year before.
The loss would be a record for a state company, eclipsing the R14.6bn state oil and gas company PetroSA burnt through in the year through March 2015 after a massive asset writedown.
The utility's precarious financial state has now become a national crisis, with the government injecting R128bn over the next three fiscal years to keep operating.
Hadebe apologised for the load shedding, but added, "The strategy that we have for Eskom is the best one. This is what will move Eskom forward," Hadebe said.
"Our earnings are sitting at R32 billion and our debt is at R70 billion," the outgoing Eskom CEO said.
He added that a number of houses have gone off the grid which has affected the power utility.
Mabuza said he had made himself available for the acting CEO position due to the importance of leadership stability in the company.
Gordhan announced that Mabuza would hold the dual role for the next three months following the resignation of Hadebe in May.
Public Enterprises Department spokesperson Adrian Lackay said Mabuza's appointment was necessitated by Hadebe's resignation and was good for continuity.
This followed ratings agency Fitch's decision to downgrade its outlook for South Africa from stable to negative, saying the multibillion injection from government was affecting the country's debt.
Amid the record loss and ratings downgrade, ANC Deputy Secretary General Jessie Duarte, told a post-NEC media briefing that the appointment of Mabuza as acting CEO of Eskom is a concern for the governing party.
While, the EFF says it will write to parliament to question the legality of Mabuza's appointment as Eskom acting CEO.