Riyaz Patel
The Public Protector has suffered another legal blow after the Gauteng High Court ruled Busisiwe Mkhwebane responsible for some of the legal costs in her personal capacity in the Vrede dairy farm matter.
Judge Ronel Tolmay ordered Thursday that the Public Protector's Office (PPO) must pay 85% of the costs of Democratic Alliance (DA).
The PPO must also pay 85% of the costs of Council for the Advancement of the South African Constitution (Casac).
Mkhwebane has to pay 7.5% out of her own pocket.
Mkhwebane's spokesperson Oupa Segalwe said she will appeal the High Court ruling.
This ruling comes three weeks after the Constitutional Court confirmed a personal costs order against Mkhwebane for her handling of the Absa/Bankorp bailout investigation.
In a damning judgment, Tolmay said the Public Protector failed the people of the country in the way she dealt with her investigation in the Estina dairy farm matter.
Tolmay said Mkhwebane's conduct in the Estina report was worse than in Reserve Bank matter.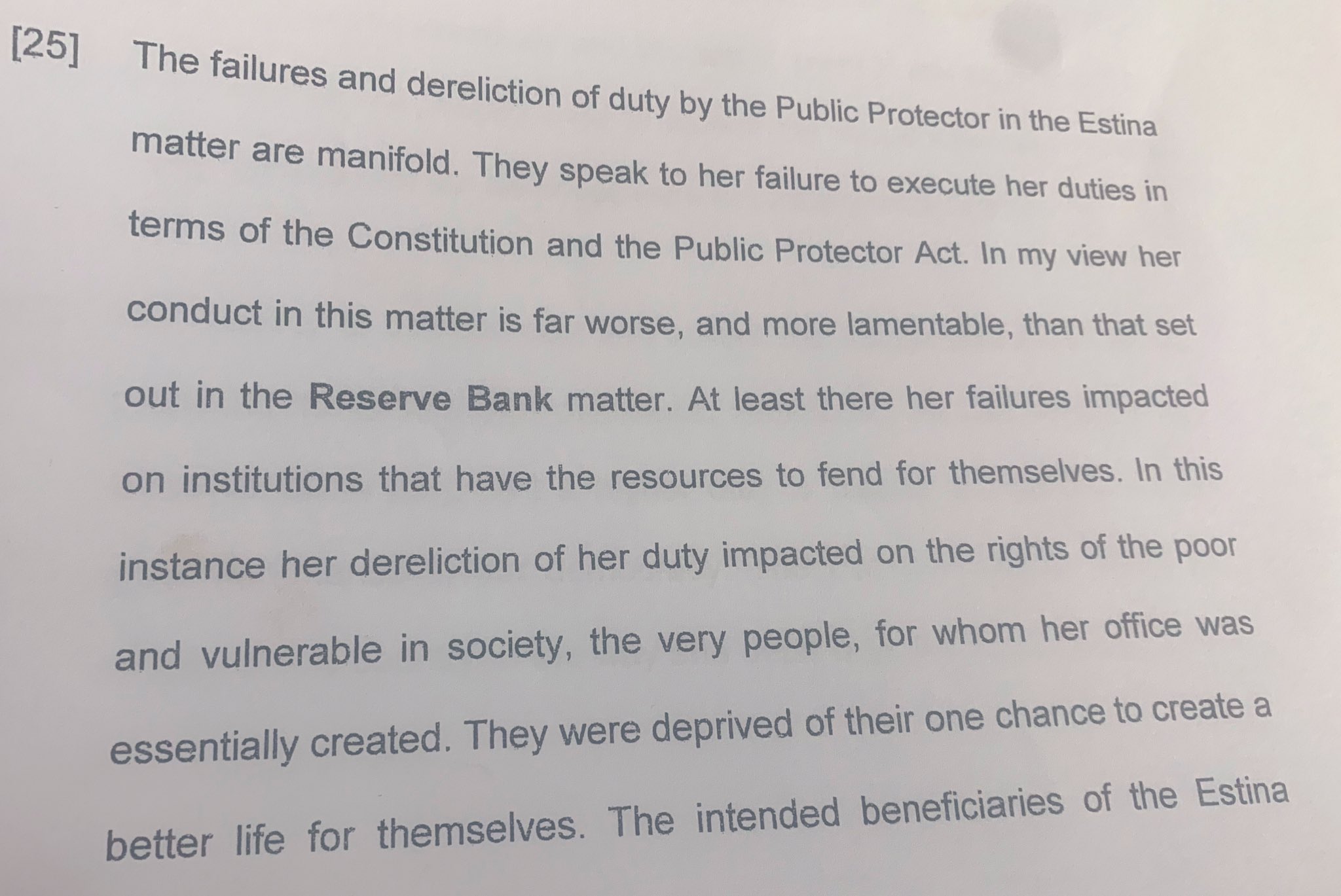 She said Mkhwebane failed completely to institute her constitutional duties but instead turned a "blind eye" when she failed to investigate the third complainant. Tolmay said beneficiaries of the Estina dairy farm were deprived of their one chance to create a better life for themselves.
In May this year, Tolmay found that Mkhwebane's report was "unconstitutional and invalid" and set it aside following an application by the DA and Casac.
Segalwe said Mkhwebane will also this challenge this judgement.
Gifted to Black Economic Empowerment company Estina in 2013 under a free 99-year lease by the provincial agriculture department, the Vrede farm has been one of the most scandalous transactions between the Guptas and a government entity.
The so-called Gupta Leaks revealed last year how at least R30-million paid to the Guptas via the farm ended up funding the family's lavish Sun City wedding in 2013.
One hundred black emerging farmers were promised five cows each as part of the empowerment scheme, but never received them.
51 total views, 6 views today