Riyaz Patel
The Public Protector's legal team has filed a record of the evidence Busisiwe Mkhwebane relied on in her report on President Cyril Ramaphosa's CR17 campaign for the ANC presidency.
The submission, to the Gauteng High Court in Pretoria, includes bank statements of the various entities involved in the campaign, as well as correspondence that formed part of Mkhwebane's probe.
Mkhwebane's legal team also sent a letter to Ramaphosa's counsel, taking issue with the President's assertion that the records were obtained illegally.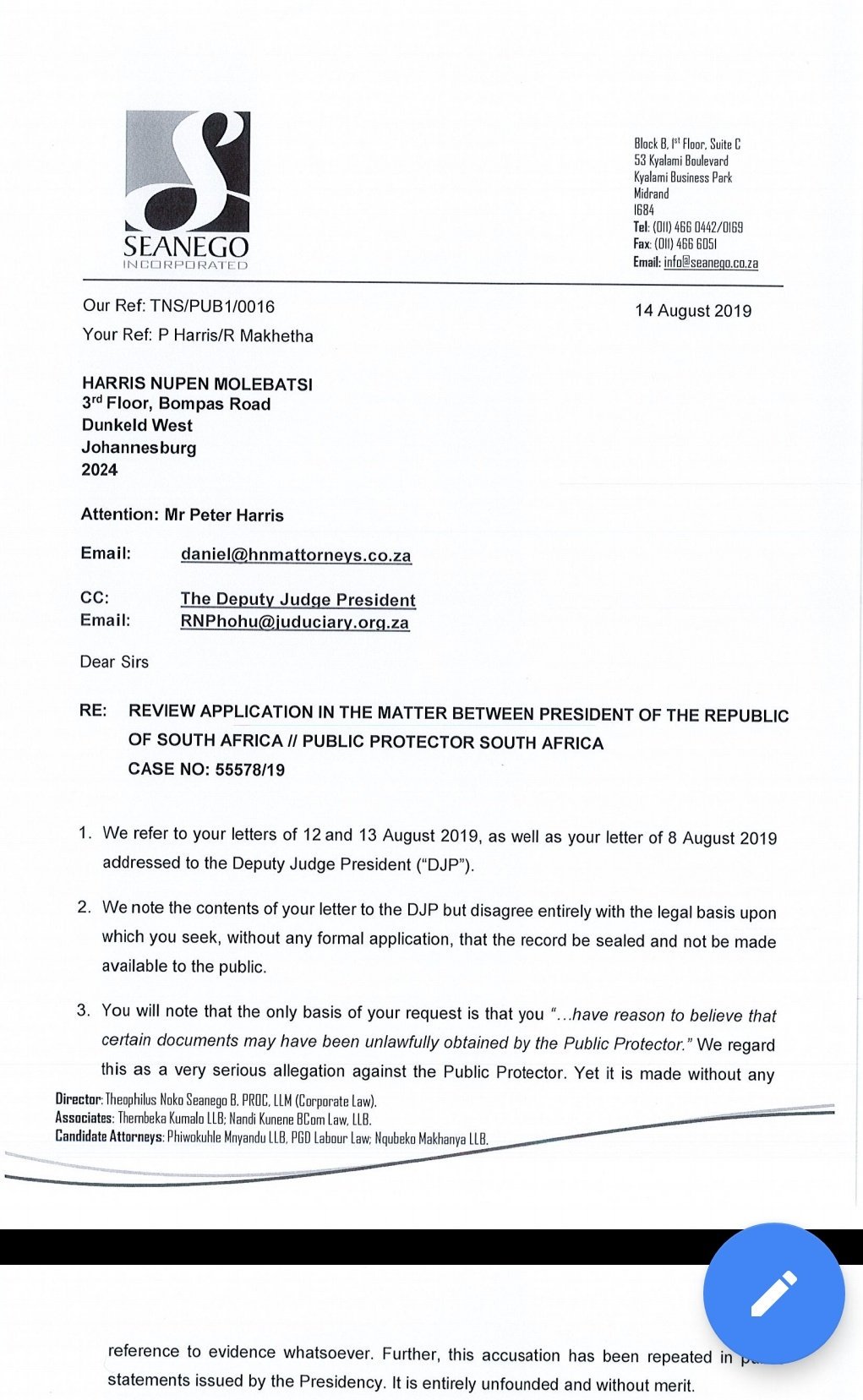 Ramaphosa has taken Mkhwebane's report – in which it was found that he deliberately misled Parliament in November last year about a R500,000 Bosasa donation he received for his campaign to become leader of the governing ANC – on review.
The Public Protector also found that the president had violated the executive ethics code.
Under the rules, if a party wants the courts to review the decisions of another party, they can request that party to produce the record which underpins their decision.
On Monday, the president was granted an interdict, unopposed by the Public Protector, preventing her from enforcing any of the remedial action in her report.
Last week, attorneys for Ramaphosa wrote to deputy judge president, Aubrey Ledwaba, requesting that parts of the record be sealed to protect confidential third party information.
The letter also highlighted that the president's legal team believed some of the evidence relied on by Mkhwebane was "obtained unlawfully" and which should not be made public.
"We submit that the bank statements of EFFG2, Linked Environmental Services, Ria Tenda Trust and the Cyril Ramaphosa Foundation accounts contain confidential information which must be protected in terms of the abovementioned provision," Peter Harris from Ramaphosa's legal team said.
Mkhwebane's spokesperson, Oupa Segalwe, insisted that "The public protector conducted the investigation by the book. There was no unlawful activity."
Mkhwebane has recently lost three high-profile court cases, however, including one against Ramaphosa, potentially undermining the credibility of her investigations.
Ramaphosa's backers say Mkhwebane is acting as a proxy for a rival faction in the ruling African National Congress party aligned with former president Jacob Zuma.
She denies the charge, saying she is simply holding senior officials to account, while complaining of a smear campaign against her.
Mkhwebane is due to appear before Parliament's justice committee later this month following a motion submitted by the DA questioning her suitability to hold office.